Scottish Drinking Horn - 10 Inches Tall
We Ship Early
Manufactured in UK by Edwin Blyde & CO. LTD.
A stunning drinking horn made from natural ox horn and shining English pewter. Hallmarked by the manufacturer, Edwin Blyde, a name synonymous with high quality and beautiful design this item is sure to give many years of pleasure. With a pewter stand and insert to make drinking easier and more comfortable.
This horn is approximately 10.5 inches tall and measures approximately 20 inches in total length. The vessel will hold approximately a half a pint of fluid.
We almost always keep at least 1 of these horns in stock at our Arizona store but please call or email to check stock if needed in a hurry.
Stock Number - 25000
RECEIVING RENTALS:
Shipping fee for rental will be calculated at check-out. We ship to the 50 US states.
RETURNING RENTALS:
Return shipping is included on all rentals!  Rentals should be shipped back the first business day after your event.
If you need more time to return a rental, please add extended rental time here.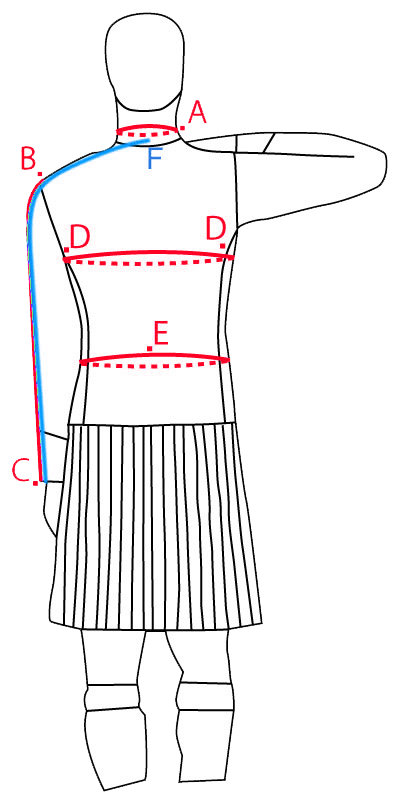 Here is a quick overview!
Neck (A) - Around the neck, in inches, not too tight.
Sleeve (B to C) - From the shoulder point to just above your thumb. Usually between 23" to 28".  **If you know your neck to cuff (F to C), you can use that as well.
Chest (D) - Around biggest part of chest, under your arms with arms down.  ** If you know what jacket size you wear, you can provide it in this section.
Waist (E) - NOT PANT SIZE, Around waist at navel...pull the tape measure snug.
Height & Weight - (Example...5'10" & 170 pounds)

Shoe Size - American Sizes