Premium Kilt Hose - To be Kept
We Ship Early
Quality kilt socks made in the UK by a family run business that has been producing socks since 1931 and supplying the High Street shops with high quality footwear.

Durable soft wool blended with Acrylic and Lycra for incredible stretch and comfort.
Machine washable and hang to dry with no shrinkage!
"These are the softest and most comfortable socks I've ever worn!" M.M. Arizona

US Shoe Sizes:


Colors Available:
Ivory
Black
Navy Blue
Bottle Green
Light Grey
RECEIVING RENTALS:
Shipping fee for rental will be calculated at check-out. We ship to the 50 US states.
RETURNING RENTALS:
Return shipping is included on all rentals!  Rentals should be shipped back the first business day after your event.
If you need more time to return a rental, please add extended rental time here.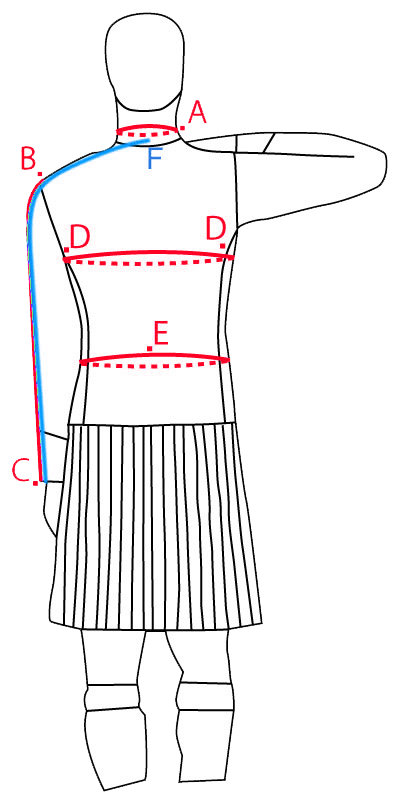 Here is a quick overview!
Neck (A) - Around the neck, in inches, not too tight.
Sleeve (B to C) - From the shoulder point to just above your thumb. Usually between 23" to 28".  **If you know your neck to cuff (F to C), you can use that as well.
Chest (D) - Around biggest part of chest, under your arms with arms down.  ** If you know what jacket size you wear, you can provide it in this section.
Waist (E) - NOT PANT SIZE, Around waist at navel...pull the tape measure snug.
Height & Weight - (Example...5'10" & 170 pounds)

Shoe Size - American Sizes