Kids Jacket & Vest Rental
We Ship Early
Kid's Prince Charlie Jacket and 3 Button Rental: The Prince Charlie vest and jacket rental for kid's includes the Prince Charlie jacket and three button vest providing a formal look. The jacket has a short cut waist and 2 tails in the back. The jacket is meant to be worn unbuttoned. Our jackets are 100% authentic made in the UK with Barathea wool and non tarnish buttons. Not all kilt rental companies in the US can say that, some are renting jackets made in Pakistan of inferior materials. Don't trust your wedding day to just anyone. You will look good and feel good in our jackets. PLEASE NOTE: This jacket & vest is for kids. If your boy requires an adult jacket & vest due to his size, we will notify you and will require the difference in rental price to be increased to match our adult pricing. **MADE IN SCOTLAND**
We offer a Prince Charlie Jacket with 3 button vest in kids sizes.
Prince Charlie:
• Has a short cut waist with 2 tails in the back
• Is a little more formal than the Argyle
• Does not button together in the front

Our jackets are 100% authentic made in the UK with Barathea wool and non tarnish buttons. Not all kilt rental companies in the US can say that, some are renting jackets made in Pakistan of inferior materials. Don't trust your wedding day to just anyone. You will look good and feel good in our jackets.
PLEASE NOTE: This jacket & vest is for kids. If your boy requires an adult jacket & vest due to his size, we will notify you and will require the difference in rental price to be increased to match our adult pricing.

RECEIVING RENTALS:
Shipping fee for rental will be calculated at check-out. We ship to the 50 US states.
RETURNING RENTALS:
Return shipping is included on all rentals!  Rentals should be shipped back the first business day after your event.
If you need more time to return a rental, please add extended rental time here.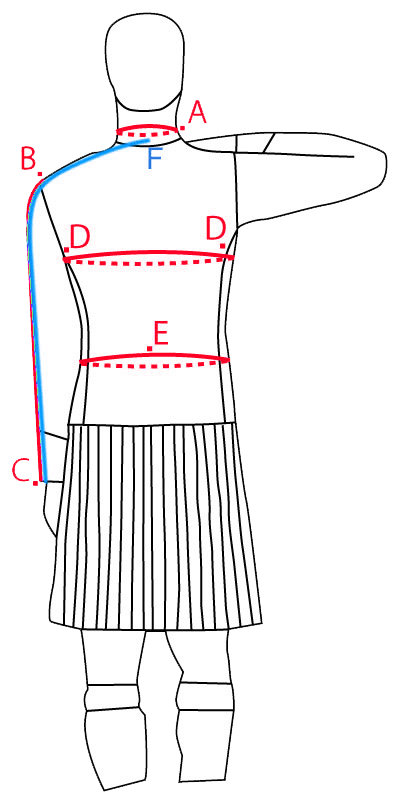 Here is a quick overview!
Neck (A) - Around the neck, in inches, not too tight.
Sleeve (B to C) - From the shoulder point to just above your thumb. Usually between 23" to 28".  **If you know your neck to cuff (F to C), you can use that as well.
Chest (D) - Around biggest part of chest, under your arms with arms down.  ** If you know what jacket size you wear, you can provide it in this section.
Waist (E) - NOT PANT SIZE, Around waist at navel...pull the tape measure snug.
Height & Weight - (Example...5'10" & 170 pounds)

Shoe Size - American Sizes