Heathergem Luckenbooth Brooch
We Ship Early
This piece has a round Heathergem set inside of a sterling silver Luckenbooth brooch. The back of the brooch has a locking pin clasp. It measures approximately 1 inche wide and 1.5 inches long.

What is a Luckenbooth?

A luckenbooth brooch is a Scottish heart-shaped brooch with a crown on top. The luckenbooth is recognized as a traditional Scottish love token often given as a betrothal or wedding brooch. The luckenbooth brooch has symbols similar to the Irish Claddagh which also uses the crown and heart.

The name comes from the luckenboothsof Edinburgh (Scotland) where jewelry and trinkets used to be sold, including this type of brooch. Luckenbooth is a Scots word for a lockable stall or workshop. The Edinburgh booths were situated near Edinburgh Castle. They were the city's first permanent shops, going back to the 15th century, and initially housing mainly silversmiths and goldsmiths.

What is a Heathergem?

Heathergems are hand made in Scotland from natural heather stems. Heathergems are original - no two pieces are ever the same, which makes them the perfect Scottish gift. Specific colors cannot be guaranteed due to the variance of the Heathergems. The gem itself might be a purple tone, or a red tone, or maybe a mix of colors. Whatever the color, you will be satisfied with this extraordinary gift.

You can REQUEST a certain color below, but know that we receive these pieces from the manufacturer at random. If we have the color you request we will gladly accommodate you, but if the color you requested is not available another color will be sent instead.
RECEIVING RENTALS:
Shipping fee for rental will be calculated at check-out. We ship to the 50 US states.
RETURNING RENTALS:
Return shipping is included on all rentals!  Rentals should be shipped back the first business day after your event.
If you need more time to return a rental, please add extended rental time here.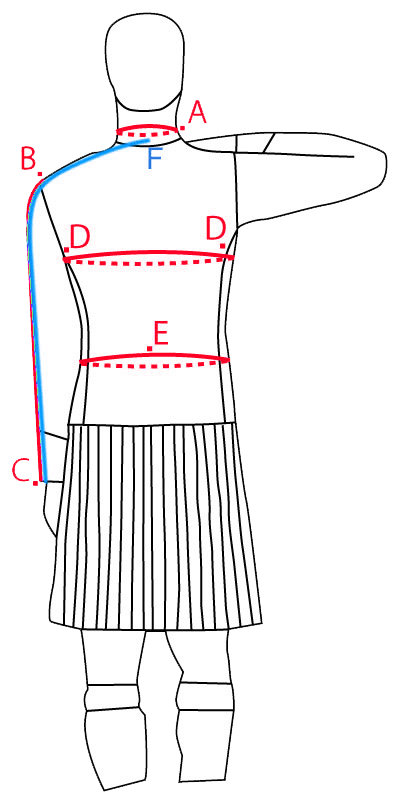 Here is a quick overview!
Neck (A) - Around the neck, in inches, not too tight.
Sleeve (B to C) - From the shoulder point to just above your thumb. Usually between 23" to 28".  **If you know your neck to cuff (F to C), you can use that as well.
Chest (D) - Around biggest part of chest, under your arms with arms down.  ** If you know what jacket size you wear, you can provide it in this section.
Waist (E) - NOT PANT SIZE, Around waist at navel...pull the tape measure snug.
Height & Weight - (Example...5'10" & 170 pounds)

Shoe Size - American Sizes