We Ship Early
Made in Scotland.
Scottish and Irish Ladies Tartan Scarves : 9.5" wide X 57" long
This is the most popular ladies garment that we sell. They are perfect for brides, mothers, grandmothers, etc., and they make great heirloom pieces.
Most sashes are made in Scotland by one of the oldest and most respected mills, Lochcarron. Other sashes are sourced from other large woolen mills in Great Britain.
Some sashes are kept in stock at our store in Arizona but most scarves are custom made and can take 1-3 months to be made.
All scarves are 10oz wool unless noted otherwise. 100% new wool from happy sheep!
16oz & 13oz sashes do not have sewn sides; the sides are slightly fringed.
Available in over 500 tartans.
RECEIVING RENTALS:
Shipping fee for rental will be calculated at check-out. We ship to the 50 US states.
RETURNING RENTALS:
Return shipping is included on all rentals!  Rentals should be shipped back the first business day after your event.
If you need more time to return a rental, please add extended rental time here.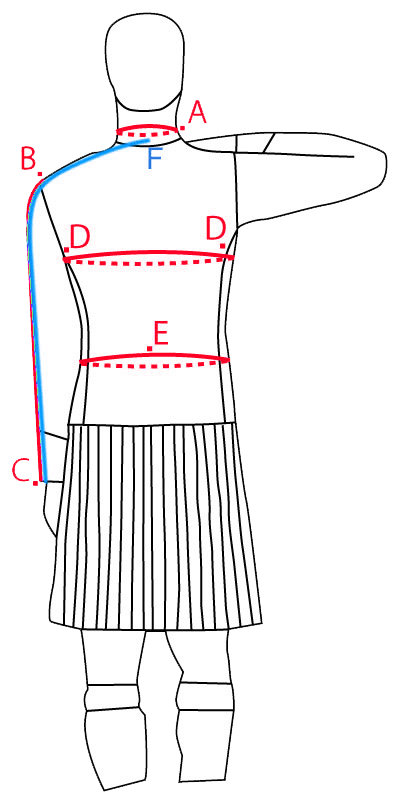 Here is a quick overview!
Neck (A) - Around the neck, in inches, not too tight.
Sleeve (B to C) - From the shoulder point to just above your thumb. Usually between 23" to 28".  **If you know your neck to cuff (F to C), you can use that as well.
Chest (D) - Around biggest part of chest, under your arms with arms down.  ** If you know what jacket size you wear, you can provide it in this section.
Waist (E) - NOT PANT SIZE, Around waist at navel...pull the tape measure snug.
Height & Weight - (Example...5'10" & 170 pounds)

Shoe Size - American Sizes