We Ship Early
Are you a groom looking to pay a portion of your groomsmen's kilt outfits?
If so, it's now easier than ever! Simply type his name and role in your wedding in the field below, and add his $50 deposit to your shopping cart. Then let him know that you've paid $50 for him, and his rental fee will be reduced by $50.
Feel free to pay for up to 10 deposits at one time.
**Once your $50 deposit order has been processed you will receive an email from us with your Discount Code.**
Be sure to tell the guy(s) that they need to type in the code in the Discount Code box when he is checking out. Entering this code is important because it will take $50 off his rental fee when he places his order.
Please indicate in the Qty field the appropriate number of deposits you are paying.
RECEIVING RENTALS:
Shipping fee for rental will be calculated at check-out. We ship to the 50 US states.
RETURNING RENTALS:
Return shipping is included on all rentals!  Rentals should be shipped back the first business day after your event.
If you need more time to return a rental, please add extended rental time here.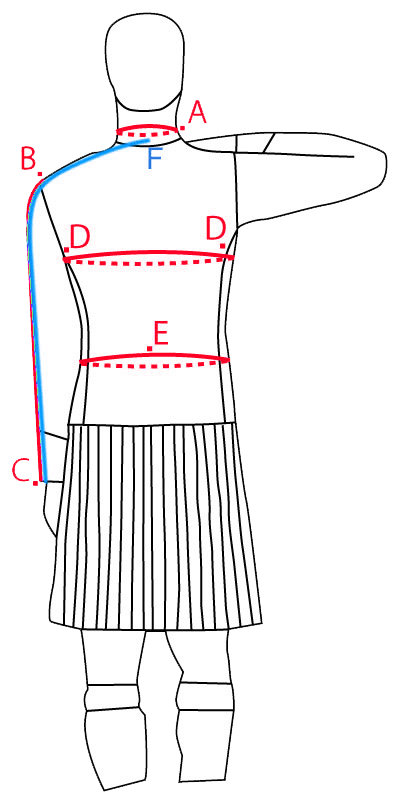 Here is a quick overview!
Neck (A) - Around the neck, in inches, not too tight.
Sleeve (B to C) - From the shoulder point to just above your thumb. Usually between 23" to 28".  **If you know your neck to cuff (F to C), you can use that as well.
Chest (D) - Around biggest part of chest, under your arms with arms down.  ** If you know what jacket size you wear, you can provide it in this section.
Waist (E) - NOT PANT SIZE, Around waist at navel...pull the tape measure snug.
Height & Weight - (Example...5'10" & 170 pounds)

Shoe Size - American Sizes